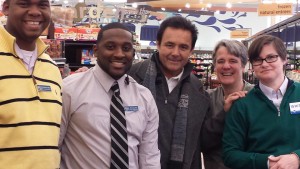 Four years ago, we were fortunate to have an amazingly    talented human being join our team.  Sandy was already a successful caterer and with an impressive background working for Dunkin Doughnuts and Starbucks, but she was looking for a new challenge.
She may have gotten more than she bargained for, but I think it's safe to say that Sandy not only made herself right at home with us, she took us by the hand and helped us fly higher than we've ever flown before.  Within a relatively few short months, our ice cream was added to Business Elite on Delta Air Lines on flights from JFK to Los Angeles and San Francisco.
We've grown more each year and we're as grateful as we can be to Sandy for helping us realize our dream.  Today she delivered the first order to Downtown Scoops in Fayetteville…a wonderful new part of our family and we couldn't be more excited.  And soon…we'll have some more BIG news.
Thank you, Sandy for all you do.